Because WordPress publishers deserve a simpler and more efficient way to connect to the world's most powerful affiliate program – Amazon Associates.

Let's Get Started!
Our goal from the very beginning was to create the most powerful WordPress plugin for inserting Amazon affiliate links – while at the same time making it the most simple to understand and use. We want EVERY WordPress user – even total beginners – to feel comfortable and confident using AmaLinks Pro. Here are step-by-step instructions for getting started…
Requirements
You must be using a self-hosted version of WordPress (not wordpress.com)
Your site must be running on PHP 7.0 or higher (check with your host)
You must have an approved Amazon Associates account

Step 1 – Download, Install & Activate
Table Builder Add-on Setup
Please note: IF you purchased a plan that includes the Table Builder Add-on – you must insert and activate a separate license key. You can find that license key in the receipt email that you received at time of purchase or on your account page.
The image below shows the two different places for inserting the separate license keys. Just click on the AmaLinks Pro link in your WordPress menu to access this page.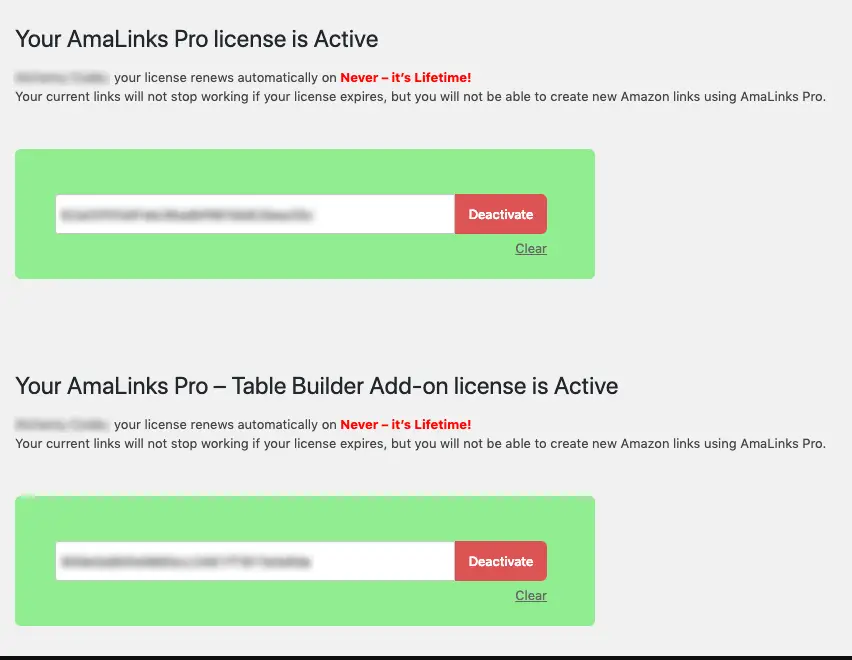 Settings

Step 2 – Insert Amazon API Credentials and Other Settings
We have detailed, step-by-step, instructions written out for all of these settings. Click on any of the following that you might need help with:
How to Insert Amazon Affiliate Links with AmaLinks Pro:

Step 3 – Learn How to Use AmaLinks Pro
Insert Text Links
Insert Image Links
Insert Custom CTA or Buy Now Buttons
How to Create or Edit Custom CTA Buttons
Create and Insert Custom Showcase Boxes
Note: When this video was created we were using the Amazon Prime logo in the Showcase Boxes. We later learned that doing so is not compliant with Amazon's policies so we replaced the Amazon Prime logo with our own text-based Prime tag. Click here to see the full details about this…
Update: New Simple Shortcode Option for Showcase Boxes
With AmaLinks Pro version 1.4.4 (or later) – you can now insert a Showcase Box by copy & pasting a short and simple shortcode and manually replace the ASIN in that shortcode with whichever product ASIN you wish to promote. Click here to see full details and instructions…
Create & Insert Product Comparison Tables
Note: When this video was created we were using the Amazon Prime logo in the Table Builder. We later learned that doing so is not compliant with Amazon's policies so we replaced the Amazon Prime logo with our own text-based Prime tag. Click here to see the full details about this…
Table Builder – Responsiveness & Other Settings
Table Builder Update – Edit CTA Text and 'Top' Product Rows