Welcome to the latest edition of our Member Spotlight feature for the AmaLinks Pro® Million Dollar Challenge! We are pleased to welcome Matthew Allen. Let's get straight to the questions! Here we go…
As an Amazon Associate, we earn from qualifying purchases
Tell us about you (and your family).
My name is Matthew Allen. I grew up with one mother, one father, one brother, two sisters and a dog named Felony. At age 29 I married this pretty girl named Susie and we now have three kids of our own (two boys and a girl), plus a bulldog named GiGi. The featured image at the top of this post shows me with my three kids at one of the holes on our favorite disc golf course.
Where do you live?
I currently live in Grand Rapids, MI (United States) where I was born and raised. I've lived here for almost my entire life – aside from the short stint where I ventured away to Michigan's upper peninsula to attend college. Grand Rapids is on the west side of Michigan – pretty much straight across the state from Detroit.
I love living in West Michigan. The four seasons in Michigan are incredible. We have beaches on Lake Michigan that resemble beaches on the ocean in the summertime – and the snowy wonderland in the wintertime is just magical. Spring and fall in Michigan, between those two extreme seasons, simply cannot be matched.
What is your education level?
I am a proud college dropout! I'm actually glad that I never finished college. When I entered college after graduating high school -I had no idea what I wanted to be when I grew up. I just went to college because that's what I was 'supposed to do'. I racked up some student loan debt for my feeble two-and-a-half-year attempt at college, then dropped out and went to work in a few different factories.
I figured out that I wanted to be a truck driver – so I worked towards that and ended up getting my commercial drivers license (CDL) at age 22. The rest is history. I drive a semi-truck for my full-time day job now and I work online as a side hustle.
How did you get started with internet marketing (making money online)?
It's a funny story really. It sort of happened by accident. I'll try to keep my long story short. I got sucked into involved in one of those network marketing (pyramid scheme) companies in 2010. I also had a brand new Twitter account! I didn't want to promote the network marketing deal to my friends and family – so I decided to learn how to build a simple one-page website where I could link to the offer on my special page on the company website. I thought I could be successful by promoting to random people that I didn't know via Twitter and other methods on the internet.
The network marketing thing didn't pan out – but throughout the process of building the website, I figured out what a blog was – so I started to blog in the personal finance niche. I was on the free Blogger (Blogspot) platform at the time. In 2012, I ditched that blog and moved over to a self-hosted site on WordPress in the internet marketing niche. I started building out niche websites and I blogged about everything I was doing. I even published monthly income reports for nearly 3 years!
Anyhow – that is the short version of how I got started.
Would you mind sharing your website(s) or blog?
My main blog, the one I started in 2012, is Dumb Passive Income. I still try to publish posts on this blog as much as I can – but I simply don't have time to keep it updated as much as I would like.
I have several other websites that are still live out there – but none really earn significant money. I sold off my 'successful' niche websites before I started AmaLinks Pro®.
I do still have the very first niche website that I ever created. It's a small website, Borax Ant Killer, dedicated entirely to the craft of using borax to kill ants. It looks different now than it did back in 2012 – but much of the content is still exactly the same. This site still earns okay money during the summer months, when ants tend to be a problem.
How much did you earn online last month?
Haha… Well, I can't reveal my overall internet income because the vast majority of it now comes from AmaLinks Pro® and I have a partner in the business and we decided that we will not publicly reveal our income or sales figures.
However, I will reveal my extremely pathetic Amazon affiliate earnings for last month. In fact, this is part of the reason that I will be an active participant in the Million Dollar Challenge – I want to revive my Amazon earnings! I don't really have any Amazon-focused websites anymore – but I still earn a little bit of income from promoting Amazon products on my Dumb Passive Income blog and on my Borax Ant Killer website.
Last month, I earned a measly $15.13 from Amazon Associates. Lol!
Have you taken any online courses or training?
I have NEVER paid for an online training course. I'm not sure if I'm proud of this or not. I KNOW I could have and would have benefited if I had – but I stubbornly chose to learn everything the slow and hard way. I used trial and error and searching up stuff on Google and YouTube whenever I got stuck with anything.
The closest thing I've done that could be considered relatable to taking an online training course… I read a book on copywriting. I heard Ray Edwards interviewed on Pat Flynn's podcast one day and then I researched the guy a little more and was intrigued by his material. I ended up purchasing his book – How to Write Copy That Sells – and read it cover to cover. I thought it was a really good book and I learned a whole lot about the art of copywriting.
Do you produce other types of content?
Not really. I pretty much stick to the written word in the form of blog posts.
I'm not a podcaster and probably never will be – although I have been interviewed on podcasts before. Here's a recent interview I did with Doug Cunnington on his podcast.
I'm not a YouTuber and probably never will be – although I do have a personal YouTube Channel where I previously recorded some screencast-type videos for Dumb Passive Income related stuff. We also have a YouTube channel for AmaLinks Pro® where I recorded some of the same types of videos for the purpose of showing how our plugin works.
But overall – I prefer the written word on blog posts just like this one.
Are you big on social media?
Nope. I have personal accounts that I'm not very active on. I have branded pages on Facebook for Dumb Passive Income and AmaLinks Pro® – but I'm not very active on those either.
Have you had anything go viral?
I do recall one post on one of my sites that sort of went viral by accident. I previously owned a niche website that was dedicated entirely to essential oils. One of my posts took off on Pinterest somehow. I think it was one about how to use essential oils for sleep apnea. I only haphazardly made an effort to promote my posts on Pinterest – but one of them took off and got shared thousands of times and sent thousands of visitors to my site within just a couple of days. The traffic from that pin lingered for a couple of weeks and then eventually died off.
I did capitalize on it. As soon as I noticed the traffic – I went over to Clickbank and found a relevant product and stuck it up on that page and made a few affiliate sales.
What are some of your personal hobbies or passions?
Blogging and creating websites and figuring out different ways to generate revenue online are some of the things that I love to do. I have SO many ideas for websites that I want to build and create. I even own the domains for many of my ideas – I just don't have enough hours and minutes in the day to accomplish everything that I want.
Some of my other hobbies and passions revolve around doing things with my family…
playing video games with my kids – my boys are gamers and they kind of got me hooked on Fortnite – although I show them up in some of my old favorites from yesteryear once in awhile
mountain bike trail riding – this is a new hobby we picked up just this year – both of my boys got new mountain bikes for their birthdays in May and we've been hitting some of the good MTB trails in our area – yes, I bought a domain to start a site about this as well – lol
sports and games – I enjoy most sports – lately I've been obsessed with shooting free throws (basketball) in my driveway to see how many I can make in a row – my lifetime record is 96 in a row (did this in my driveway when I was in high school) – the best I've been able to achieve recently is 29 in a row in my driveway at my current home – I also enjoy good old-fashioned board games (Catan is one of my current favorites)
going out to eat! – one of my favorite things to do in the world is to enjoy a meal at a restaurant with family or friends. I love being waited on and not having to cook or clean up after – I especially love experiencing different meals and beers at various restaurants (give me a good burger with fries and a local brew) – unfortunately, the covid situation has temporarily hampered our dining out experiences this year
What is your big goal with your internet marketing ventures?
I never had one big goal – like a lot of people get into internet marketing or blogging because they hate their day job and they want to be able to quit and go full-time online. That was never me. My goal has always been to simply ease some financial burdens and just make life easier and better for my family. Creating some nice side income online has enabled me to do that.
But lately – as I progress in age and my nearly 10 years of experience with internet marketing is starting to come to fruition… I'm actually starting to think about what it would be like to quit trucking sometime before 'retirement age' and work online full-time. Or… what if I'm able to sell an online asset one day for a high 7-figure exit. What would I do then?
What keeps you motivated to continue growing your internet income?
Well… I'm not 'financially independent' quite yet. I still NEED my day job income. It will be nice to grow my internet income to the point where I have options and I can quit my day job IF I want to. A few other things I would like to do with money and keeps me motivated are…
I want to pay off my house as soon as possible
I want to have a nice in-ground swimming pool installed in my backyard at some point
I want to go on tropical vacations with my wife (maybe we'll bring the kids on one too)
I would like a 3rd vacation home on a lake (we already have a 2nd home 'up north' not on a lake)
I want to own investment real estate (maybe)
I want to be able to give extravagantly to my local church and to local charities
You can see why I need that high 7-figure exit – lol! Minimalism isn't my thing… if you can't tell.
Overall – my family is the #1 thing that keeps me motivated. Everything I listed above is related to them….
A paid-for house just makes like that much easier for my family
A backyard swimming pool makes life that much more enjoyable for my family
Tropical vacations make life more extravagantly enjoyable for me and my wife and our family
A vacation home on a lake – to spend time with family
Investment real estate – more income for family and to teach my kids how to 'make money work for you' rather than 'you working for money'
Charitable giving – again, to teach my kids the power and importance of giving
What is your favorite book that you've read?
Rich Dad Poor Dad, by Robert Kiyosaki, is easily my favorite book that I've read and the one that has been most influential in my life. In fact, I've read it several times and I'm certain I will read it several more times before they plant me in the ground, 6 feet under. Robert's explanations of assets vs liabilities and his income quadrant material really are life-changing. If you still haven't read Rich Dad Poor Day yet – what are you waiting for?!?
I do have some honorable mentions – a few books that rank right up there, but I couldn't categorize as 'favorite' above Rich Dad Poor Dad…
FAKE – by Robert Kiyosaki – sort of a follow-up to Rich Dad Poor Dad with new insights and information you've probably never seen anywhere else
FU Money – by Dan Lok – a tell-it-like-it-is book by a guy with an indisputably rugged personality – if you don't mind a little cussing, you will LOVE this book (get FU Money for FREE here – you just pay shipping)
Tribe of Millionaires – by multiple authors – real-life lessons in wealth and relationships, told in a story format – this book was hard to put down – this book is partly responsible for my motivation to create this Million Dollar Challenge! (get Tribe of Millionaires for FREE here – you just pay shipping)
The Millioinaire Fastlane – by MJ DeMarco – getting rich slow is for losers (most people) – this book explains WHY and HOW you should move into the fastlane and get rich quick
Why We Want You To Be Rich – by Donald Trump and Robert Kiyosaki – this book was co-written by two famous multi-millionaires long before one of them became president of the United States – it's a fascinating perspective on exactly WHY everybody should become rich
The Go-Giver – by Bob Burg and John David Mann – amazing lessons in life and business, told in parable format – you'll learn about the 'Five Laws of Stratospheric Success' – another 'story' that you won't be able to put down
The Traveler's Gift – by Andy Andrews – another amazing book told in story format, using famous people from history and their stories to teach the 'Seven Decisions that Determine Personal Success' – yet another book that you won't be able to put down
Here is a nice comparison table (built with AmaLinks Pro®) featuring all of these books…
Image
Title
Price
Prime
Buy
Author
Rich Dad Poor Dad: What the Rich Teach Their Kids About Money That the Poor and Middle Class Do Not!

Prime

Eligible

Buy on Amazon
Kiyosaki, Robert T.
FAKE: Fake Money, Fake Teachers, Fake Assets: How Lies Are Making the Poor and Middle Class Poorer

Prime

Eligible

Buy on Amazon
Kiyosaki, Robert T.
F.U. Money: Make As Much Money As You Damn Well Want And Live Your LIfe As YOu Damn Well Please!

Prime

Eligible

Buy on Amazon
Lok, Dan
Tribe of Millionaires: What if one choice could change everything?

Prime

Eligible

Buy on Amazon
Osborn, David
The Millionaire Fastlane: Crack the Code to Wealth and Live Rich for a Lifetime!

Prime

Eligible

Buy on Amazon
DeMarco, MJ
Why We Want You To Be Rich: Two Men • One Message

Prime

Eligible

Buy on Amazon
Trump, Donald J.
The Go-Giver, Expanded Edition: A Little Story About a Powerful Business Idea (Go-Giver, Book 1

Prime

Eligible

Buy on Amazon
Burg, Bob
The Traveler's Gift: Seven Decisions that Determine Personal Success

Prime

Eligible

Buy on Amazon
Andrews, Andy
Product prices and availability are accurate as of the date/time indicated and are subject to change. Any price and availability information displayed on [relevant Amazon Site(s), as applicable] at the time of purchase will apply to the purchase of this product.
Prices pulled from the Amazon Product Advertising API on:
What is your favorite thing that you've purchased online recently?
This one is EASY! It wasn't even that recently… I've been using this thing for the past couple of years now – but I absolutely LOVE my Bose bluetooth speaker. This thing has amazing sound, great battery life, rugged durability and did I mention that the sound is outstanding? 🙂 Here is a picture of it that I took at the beach not too long ago…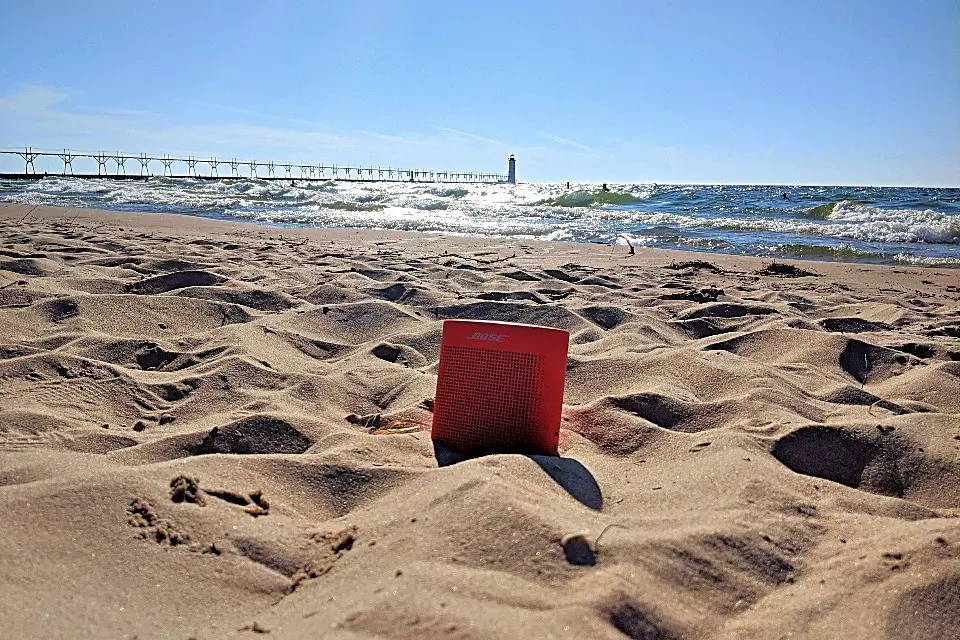 It comes in a few different colors. I opted for the 'red' which turned out to be more of a pinkish-orange color. But I still love it!
Here is a Showcase Box (by AmaLinks Pro®) to show it off some more…
Bose SoundLink Color Bluetooth Speaker II – Soft Black
Innovative Bose technology packs bold sound into a small, water resistant speaker

Built-in mic for speakerphone to take clear conference or personal calls out loud with a wireless range of approximately 30 feet.

Rugged, with a soft touch silicone exterior that makes it easy to pick up and go

Voice prompts talk you through Bluetooth pairing so it's easier than ever or even quick-pair with NFC devices

Lithium-ion battery lets you enjoy up to 8 hours of play time, rechargeable with USB power sources

Wireless Bluetooth pairing with voice prompts allows you to easily take calls and access your phone's virtual assistant — hands free

Pair two SoundLink speakers together for party mode or stereo mode or use Bose SimpleSync technology to pair with a member of the Bose Smart Home Family to play in sync
Prices pulled from the Amazon Product Advertising API on:
Product prices and availability are accurate as of the date/time indicated and are subject to change. Any price and availability information displayed on [relevant Amazon Site(s), as applicable] at the time of purchase will apply to the purchase of this product.
Anything else you would like to share?
It has been my pleasure to share a little bit of my story with you and some personal details from my life and my business adventures.
If you're not already a member of the Million Dollar Challenge – what are you waiting for? It's totally FREE to join. If you make money (or aspire to make money) as an Amazon affiliate – then this is something you don't want to miss out on. Just click the button below to get started.
[elementor-template id="21838″]
[elementor-template id="21837″]