Are you an Amazon Associate who owns a website that gets traffic from several different countries and you want to know how to monetize that traffic? The problem is that you might have visitors from other countries clicking on your Amazon affiliate links and you may not be earning commissions that you deserve. If your website gets a good amount of traffic from more than just your home/main country – then Amazon link localization is something that you DO NOT want to ignore.
How Much Is It Costing You to NOT Localize Your Amazon Links?
Have you checked your analytics lately to see how much of your traffic is coming from other countries? Did you even realize that you've likely been losing out on commissions when those visitors click on your Amazon affiliate links? If your foreign audience is substantial – we could be talking about a LOT of money you might be missing out on. This could be especially true if you have a non-U.S. site and you get substantial traffic from the U.S. because Amazon is so massive in the United States. But even if you have a U.S.-based site – Amazon commissions from other countries can really add up fast.
Let me show you an example. Here is how it works… Let's say you have an Australian-based website where you planned to target a mostly Australian audience and all of your Amazon affiliate links point to products on Amazon Australia (https://www.amazon.com.au/). For whatever reason – you start to attract a whole bunch of visitors from the United States. When those U.S. visitors click on your Amazon Australia affiliate links – they are unable to buy! Amazon DOES NOT automatically redirect them to Amazon.com (or any other country). That same product might not even be available in other countries. This is a huge problem and it could cost you thousands of dollars per month! It's up to you to make sure the affiliate links on your site are localized so that you can earn commissions from all qualifying countries.
Check your analytics. If you are getting significant amounts of traffic from other countries that have Amazon stores available – then you should be localizing your links. It's really quite simple to do. You only need to spend a little bit of time setting it up once – then everything is done for you automatically after that.
How One Blogger Increased Earnings by $1,500 Using Amazon Link Localization
Have you heard of Darren Rowse and this little site that he runs called ProBlogger? Okay – that was a joke. 🙂 ProBlogger is HUGE and Darren has been around for a long time. Darren decided to test out Amazon's native link localization tool called Amazon OneLink. Darren's site is perfect to run a test like this since he has a massive worldwide audience with tons of traffic from many different countries. He published the details and results of his experiment with Amazon OneLink here.
In a nutshell – Darren was able to capture just over $1,500 in EXTRA Amazon commissions, in just over a 3 month time period, that he would NOT have otherwise earned if he didn't use link localization. This translates to an extra $6,000 per year (estimated)!
In his blog post – Darren walks you through the setup process for Amazon OneLink and also discusses some of what he feels are the pros and cons.
Transform Your Site Into an International Amazon Money-Making Machine
We are aware of two trusted solutions for automatic Amazon link localization. Amazon OneLink is built and run by Amazon themselves and is totally free to use. Amazon OneLink is sufficient – but we found a solution that we think is better and it is called Genius Link. Both solutions automatically localize Amazon links – but Amazon OneLink has its limitations. Genius Link is more robust and has been proven to work better – but Genius Link is not free. It does have a minimal cost attached to it. Allow me to briefly describe how each service works…
Amazon OneLink
Update: March 2020 – Use Amazon OneLink with caution and at your own risk! We've had reports from users who tell us that their sites are being severely slowed down as a result of using OneLink. We've also noticed that sites that are using OneLink have a LOT of javascript errors on their pages that have Amazon links. These javascript errors could cause all kinds of unknown errors and cause things to break.
Update: 2021 and beyond – You no longer need to add a script to your site to use Amazon OneLink. Instead, everything is handled on Amazon's side! You can ignore some of what is written below about adding a script to your site – as that is no longer the case. Here is a detailed article from Amazon Associates Central on how to use Amazon OneLink to monetize your international traffic…
https://affiliate-program.amazon.com/resource-center/onelink/
What is OneLink and how will it benefit me?
OneLink is a script-based solution that allows you to monetize your international traffic from the United States, United Kingdom, Canada, Italy, France, Spain, Germany, and Japan. When visitors on your web pages click on a text link to buy a product on Amazon, OneLink will redirect your international visitors to their local or nearest Amazon marketplace as this is where they have an account, can see pricing in their local currency, and have reasonable, if not free shipping costs. OneLink allows for the best user experience by creating a seamless redirect for your international visitors, allowing them the ability to complete their purchases within their local or nearest Amazon store. This leads to a better shopping experience for your customers, and better conversion rates for you. (Credit: Amazon Associates Central)
Note: As of the time this was written (September 2018), only the countries listed above were actively working with Amazon OneLink. Please check with Amazon for an updated list.
In a nutshell – all you have to do is sign up for Amazon Associates in any (or all) of the participating countries that you wish to have Amazon clicks redirected to. Then you place a script (code provided to you by Amazon) into the footer of your website and Amazon OneLink takes care of everything from there! Here is a step-by-step guide from Amazon Associates on the whole OneLink setup process.
After that script is in place – you don't need to do anything else. It automatically redirects all existing and all future text links and sends users to the proper Amazon store based on their country location. Although Amazon documentation says it only works for text links – it actually works with all of the link types that are available with AmaLinks Pro® (text, image, CTA, Showcase).
Note: Amazon OneLink DOES NOT work with Native Shopping Ads or other Amazon ad widgets.
Genius Links
Genius Link is SO much more than just a link localizing tool – but link localization is one part of their offering that they do VERY well. Here's how it works…
Genius Link detects a shopper's country, language, device, and more, then routes them to the best page for them. It's automatic for Amazon, iTunes, and Microsoft. Plus, you can define custom destinations for any other affiliate program. Unlike Amazon OneLink, we support ALL major Amazon storefronts and our localization leads the way in accuracy. (Credit: Genius Links)
In much the same way as Amazon OneLink – Genius Link offers a simple script (a piece of code) that you insert into your website and it auto-magically converts all of your existing and future links. To make things even easier – they offer a WordPress plugin that you can install if you're not comfortable placing code on the back end of your site.
We at AmaLinks Pro® are big fans of Genius Link and it is what we use for Amazon link localization on our personal sites. We've tested it thoroughly and Genius Link works for converting ALL link types created by AmaLinks Pro®.
Note: Genius Link DOES NOT work with Native Shopping Ads or other Amazon ad widgets.
Here is a really good FAQ page for Genius Link that should answer any additional questions you might have.
While doing research on this topic – I've scoured the internet looking for information on link localization. By far – the best external write-up I've found for Genius Link is this Genius Link review by Harsh Agrawal on his Shout Me Loud blog.
The ONLY downside to Genius Link vs Amazon OneLink is that it isn't free. Although the cost is VERY reasonable at $2 per 1,000 clicks. This minimal cost can easily be justified when you realize that if you can't earn an extra $2 from 1,000 clicks to localized links – then you probably shouldn't be localizing your links at all!
Amazon OneLink vs Genius Link
Genius Link is better – hands down! It's not even close. If you just look at the fact that Genius Link works with ALL countries that have Amazon storefronts and Amazon OneLink only works with about half of those countries. But Genius Link is better for many more reasons as well. Take a look at this comparison chart posted on the Genius Link blog.
Easily Integrate AmaLinks Pro® with Genius Link or Amazon OneLink
Genius Link and Amazon OneLink both provide you with a piece of code (a script) known as a JavaScript Snippet. In both cases, you must copy that code and paste it into the back end of your website in the appropriate place for it to work (exception: if you use Genius Link and choose to use their WordPress plugin instead).
With AmaLinks Pro® – we make it extremely easy for you to insert the JavaScript Snippet! Simply go into your AmaLinks Pro® Settings (left-hand WordPress menu) then click on the Localization tab. Paste your OneLink OR your Genius Link script in the box then hit the Update button in the upper right corner. Done! Easy as that.
Update: March 2020 – Amazon OneLink NO LONGER requires you to insert javascript code on your site. Previously – you needed to create a javascript snippet using OneTag by Amazon – but Amazon is shutting down OneTag. Now, it seems, the localization is handled by Amazon without you having to add code to your site. Here is the email that they sent out to Amazon Associates…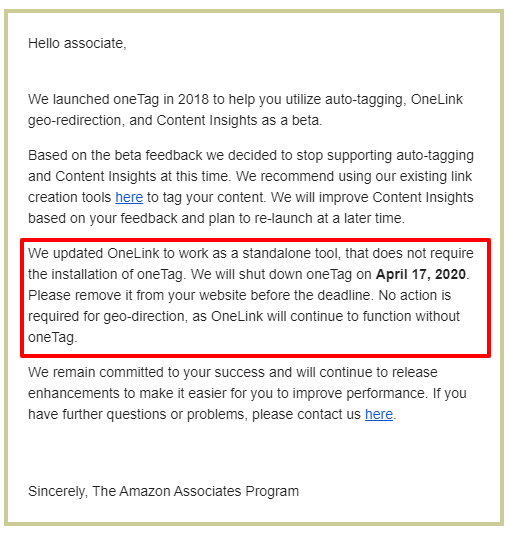 Note: DO NOT use Amazon OneLink and Genius Link at the same time. They are not compatible with each other.
That's it! That's all you have to do in order to localize ALL of your Amazon links using AmaLinks Pro®. It doesn't matter when you setup OneLink within your Amazon Associates account or when you insert your Geni.us Link script – your links will auto-magically be converted and ALL existing and future links on your site will be instantly transformed into an international money-making machine!
Note: There are sign-up and setup processes for both OneLink and Genius Link that will need to be completed. It's not very hard but it may take a little bit of time.
Update: March 2020 – Use Amazon OneLink with caution and at your own risk! We've had reports from users who tell us that their sites are being severely slowed down as a result of using OneLink. We've also noticed that sites that are using OneLink have a LOT of javascript errors on their pages that have Amazon links. These javascript errors could cause unknown errors and cause things to break.
Geni.us Link is still fine – as far as we know.
Get AmaLinks Pro® Today!
Amazon Link localization with these 2 solutions is extremely powerful and easier than it's ever been to get setup. At AmaLinks Pro® – we're proud to partner with either of these solutions to make localizing your links as easy as possible! But that's not the only thing that is WAY easier with AmaLinks Pro®. Every single aspect of linking to products on Amazon as an affiliate is better and easier with AmaLinks Pro®. What are you waiting for? Grab your copy today!
FAQ – Link Localization with AmaLinks Pro®
What is Link Localization?
Link localization is when you detect what country a visitor is visiting from, and then direct them to the correct Amazon store via your affiliate link automatically. For example, you can direct visitors in Canada to use your Amazon Affiliate Canada link, send visitors from Australia to your Amazon Affiliate Australia links, send your UK visitors through your Amazon Affiliate UK link and make commissions from each of the programs. Here you can check out what Amazon Affiliate Countries are supported.
What Amazon Link Localization Methods do you recommend for AmaLinks Pro®?
We highly recommend using either OneLink or Genius Link – which is why those are the ONLY 2 options that we support and recommend using in conjunction with AmaLinks Pro®.
Does AmaLinks Pro just need Amazon API access for the main locale that the user is using or do they need API access for all geographies?
AmaLinks Pro® ONLY needs API access for your main locale. The API access is only necessary to obtain product information within the plugin during the Post/Page editing process and also to display information on the Post/Page when it is live. Amazon Link localization does not take place until the moment a user clicks on one of the links. At that point – OneLink or Genius Link determines where the user is located and they send that link click to the most appropriate Amazon page.
If the user just needs API access for the main locale, then are you using Onelink to provide the localization of links?
(E.g. my site has mainly US traffic, so I am a qualified affiliate for Amazon USA and have access to the API.  I have traffic from Canada but am not a qualified affiliate for Amazon Canada, therefore do not have access to the Canadian API.  However, I have signed up for Onelink.  Will my links localize to Canada?)
Yes. As explained above – link localization takes place only at the exact moment that a link is actually clicked. Amazon Link localization has nothing to do with the Amazon API for any of the respective territories.
How are you dealing with Australia – if a user has access to the Australian API that would seem to work, but what about localization as Amazon AU isn't on Onelink yet?
You are correct – Amazon OneLink does not support Australia (at the time this is being written) – but Genius Link works with ALL territories! We highly suggest Genius Link over Amazon OneLink regardless of which country you are in – but especially for countries not yet supported by Amazon OneLink – Genius Link is an excellent alternative!