I came across this question in one of the Facebook groups that I'm in. Here is the exact question from one of the group members…
An Amazon affiliate link question… can I link to a product search page ie all the Hoka one one women trail shoes, or does it HAVE to go to a specific product detail page for one seller? I seem to be reading conflicting info about this – even when on the EasyAzon blog which says I can link to a search of 'top sellers' for a niche product! Any help appreciated.
I'm happy to help! This is an easy answer…
Can I Link to a Search Results Page on Amazon with My Affiliate Tag?
The quick answer is yes you can. Look no further than your Amazon Associates account!
How can I link to a search results page on Amazon with my affiliate tag?
Step 1 – login to your Amazon Associates account to access Amazon Associates Central
Step 2 – in the menu at the top – hover over Product Linking then select Link to Any Page
Step 3 – in the box below, click the Link to Search Results tab
You will see this…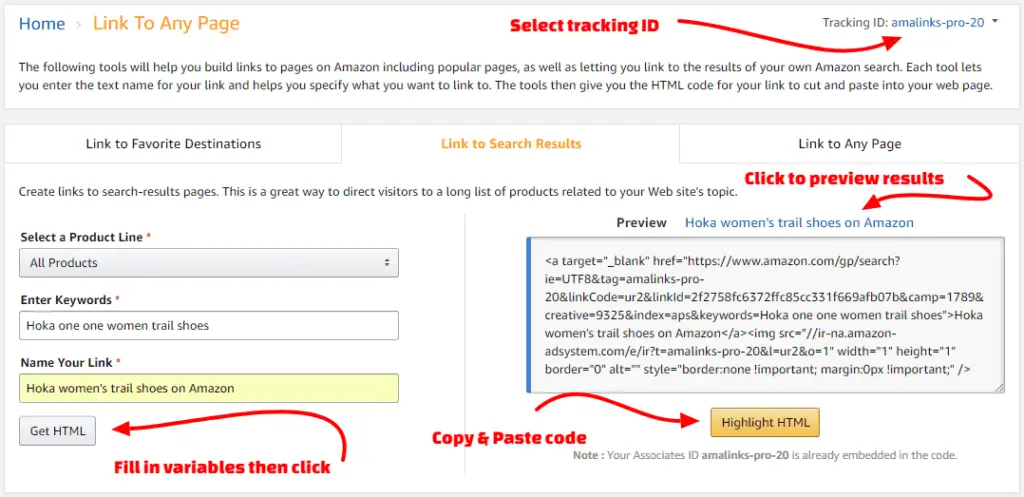 Step 4 – select the tracking ID you wish to use (upper right corner)
Step 5 – fill in the variables on the left then click Get HTML
Step 6 – preview the search results page (link just above the code box on right)
Step 7 – copy the HTML code and paste it into your website where you want the link to appear
Are You Allowed to Link to Search Results in Amazon as an Affiliate?
I think that answer is obvious now! Since Amazon provides a tool right within Amazon Associates Central for you to do this – YES! It's absolutely allowed. It's another great tool for Ama affiliates.
Is There an Easier Way to do this with AmaLinks Pro®?
Most Amazon affiliate WordPress plugins do not offer this feature. At the time I am writing this post – AmaLinks Pro® does not offer this feature either. Although, this question has made us aware of the desire for this type of feature and we are adding it to the list for a future update! In the meantime – AmaLinks Pro® makes every other aspect of linking to products on Amazon SO much easier and better. Check out how it works on our demo page.