One of the easiest and most effective ways to start making money on your website or blog is with affiliate marketing – specifically by promoting products that are sold on Amazon. Affiliate marketing trends are on a sharp rise and the opportunity to make money from your blog is bigger than ever.
Yeah, sure, there are many other ways to monetize a website or blog. Placing display ads is another very common way to earn money from your blog. But if you want to get started today and actually add some value for your readers without destroying your site with obnoxious display ads – then monetizing with Amazon Associates just might be a great option for you.
Watch this 4-minute explainer video below
* especially if you are brand new to making money with Amazon on your website or blog…
What You Could Do with Extra Money Each Month from Amazon
You probably won't get super-rich just by promoting Amazon products on your blog. Although it is a possibility – and I know lots of people who have done it – it is not likely that you will even earn 'quit your job' money solely from promoting Amazon products as an affiliate.
I hate to be the one to rain on your parade – but for most of us, the money we earn from Amazon Associates will be less significant than it was previously. You see – Amazon commission rates aren't quite as high as they used to be. But the Amazon affiliate program is still one of the easiest to get started with and is still one of the most effective ways to earn money from your blog.
Here is how I like to think of it… The Amazon affiliate program is a great source to earn a little bit of 'walking around money' – or just extra money that you can use each month for whatever you want. The possibilities are endless! In fact, we've started a small list of 25 things that you could do with the extra money you earn each month from Amazon!
25 Things To Do with Extra Income from Amazon
We put together this 'starter' list – of things that YOU could do each month with a little extra money from Amazon. I say 'starter' list, because the sky truly is the limit here. You can do whatever you want with the money that you earn. But the stuff listed below is some of the common things that average people might find themselves doing if they came across a little extra cash each month. Try to imagine yourself being able to do any of the following each month if you could earn enough as an Amazon affiliate…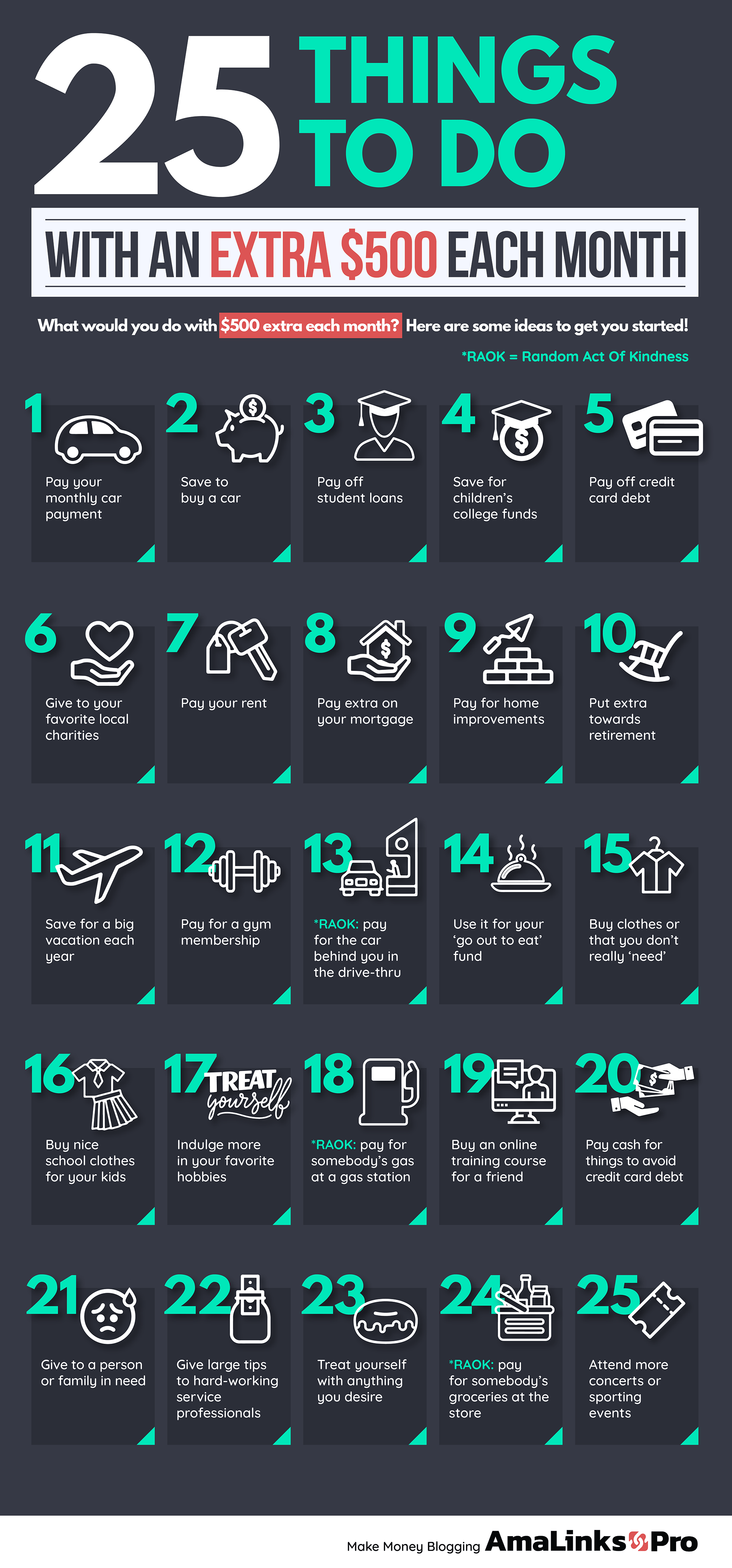 Disclaimer: $500 per month is just an example amount. There is no guarantee that anybody will earn $500 per month. The amount you earn will vary and relies on many different factors. You could earn way less than $500 in any given month and you could earn way more than $500 in a month.
pay your monthly car payment
save to pay cash for a car
pay off student loans
save for your children's college funds
pay off credit card debt
pay cash for things so you don't get into credit card debt
pay your rent
pay extra on your mortgage
pay for home improvements
put extra towards your retirement savings each month
save for a really nice vacation each year
pay for a gym membership
spoil yourself with whatever you desire
use it for your 'go out to eat' fund
buy clothes or shoes that you don't really 'need'
buy nice school clothes for your kids
spend extra money on your favorite hobbies
spend on concerts or sporting events
pay it forward – buy an online training course for somebody else
give to your favorite local charities
give to a person or family in need
give extravagantly large tips to hard-working service professionals (waitresses, etc.)
random acts of kindness – pay for the car behind you in the drive-thru
random acts of kindness – pay for somebody's groceries at the store
random acts of kindness – pay for somebody's gas at a gas station

No purchase necessary.
Cancel at any time.
Sign up for
FREE

to become a better Amazon Affiliate.
How to Sign Up for Amazon Associates
Anybody can sign up for Amazon Associates at any time. But Amazon does have some stipulations for new Amazon Associates. The biggest one being that you have to get at least 3 referrals within your first 180 days (about 6 months) in order for your account to remain active.
If you are brand new to blogging – I would suggest that you publish some content first and start getting traffic to your blog before you sign up for Amazon Associates. You can always go back and edit your blog posts later and add some Amazon affiliate links. In my opinion – 6 to 10 posts would be a good starting point and you could sign up for Amazon Associates as soon as you are getting as little as 15 to 20 visitors per day to your site!
Note: This is not a 'how to start a blog' post. Plenty of other resources around the internet cover that in great detail. Beware… many of those posts want you to sign up for hosting using their affiliate links because hosting commissions are generally quite lucrative. Not that there's anything wrong with that. I've done it myself on my personal blog. I just wanted you to be aware.
We're just not going to do that here. We just want to show you how to get started making money with Amazon – assuming that you already have a blog or are learning how to get started with blogging.
Signing up for Amazon Associates is Easy!
Visit this page to learn more about Amazon Associates and then click one of the Sign Up buttons (or links). You must have an existing Amazon account. It will prompt you to sign in to your main Amazon account (the same one you use for shopping on Amazon). If you do not have an Amazon account – you will have to create one.
Go through the prompts to enter and validate all of the information they ask for, including:
Your account information – personal contact info
Your websites and apps – you MUST list ALL websites and apps where you plan to promote Amazon products

Note: You cannot use any of your listed websites or apps to promote Amazon products IF they are primarily targeted towards children under the age of 13. You must agree and consent that your websites or apps meet this qualification.

Your profile – info about your websites or apps
Start using Associates Central
The sudden rise of contactless shopping around the world, due to circumstances out of our control, has given Amazon affiliates a golded opportunity to earn like never before! People are buying stuff on Amazon anyway… why not direct them to Amazon via your blog so you can earn commissions?! ~ Matthew Allen
Find or Create Content to Promote Products on Amazon
Now it's time for the fun stuff – actually inserting your Amazon affiliate links into the content on your website. This is where the magic happens. This is how it all starts. Inserting Amazon affiliate links, on your blog, gives YOUR readers the opportunity to click over from your website to Amazon. Once they do this – your affiliate cookie is set and then you get commissions for ANYTHING they purchase within the next 24 hours.
If you did not know – THIS is the aspect of the Amazon Associates affiliate program that sets it apart from all the rest. The fact that they pay out commissions for ANYTHING that somebody purchases after clicking through via your affiliate links. Most other affiliate programs online do not do this – they pay commissions ONLY for the item that you are promoting.
Here's an example… say you have a mom blog and you have content that promotes kids coloring books (or something). One of your readers might click on the coloring book affiliate link and then once they get over to Amazon – they realize they also need crayons and markers and who knows what else! They might purchase some underwear or a crockpot or a bluetooth speaker. Anything and everything they could possibly need is available on Amazon and anything they purchase within 24 hours, after clicking on your affiliate link, you get referral credit for!
Place Amazon affiliate links in existing content
If you already have a blog or a website that has content published – you may have perfect opportunities to add Amazon affiliate links in existing content! You might be surprised at the types of posts that can be monetized with Amazon affiliate links. Sometimes you simply need to think outside the box a little bit.
Actually… you don't even have to think that hard because we've got it covered for you! We actually published an entire post that shows you exactly How to Monetize ANY Blog Post with Amazon Associates. Here are a few of the posts types mentioned in that article that can be used to promote Amazon products as an affiliate…
List posts
How-to guides (tutorials) – this is one of my favorites!
Checklists (cheat sheets)
Interviews
Personal stories
Case studies
Definitely check out the entire post to see details on these topics, and more!
It's as easy as finding physical (or digital) products that you've already mentioned – or finding places where you can easily mention a relevant product that is sold on Amazon.
Hint: it's not hard to find products that are sold on Amazon – since Amazon sells just about everything available under the sun!
Tip: if you have an existing blog that is already getting traffic – identify your posts that are already getting good traffic and add Amazon links to those first!
Create new content specifically for promoting products on Amazon
This is where it can get really fun – creating brand new content that has the sole purpose of promoting products that are sold on Amazon. This is where the money is really at!
Some of the post types that I mentioned above are wonderful for creating content that can be used to promote Amazon products. For example… a do-it-yourself (DIY) or a how-to guide is an awesome post type for promoting Amazon products! Think about it… imagine a woodworking blog that has a DIY post for how to build a wooden rocking chair. Surely, there will be specialized tools that not all common wood shops might not have on hand. This is a perfect opportunity to promote these tools on Amazon!
Some of the post types I mentioned are actually less common as far as Amazon affiliate posts. Two of the MOST common Amazon affiliate post types are…
Product roundup posts
Product review posts
If you've ever searched for a specific product or type of product through a search engine (like Google), you've surely come across one of these 2 post types. They tend to rank really well in Google and website builders purposely build out content with the sole purpose of ranking in Google for these types of posts. If you can rank a post in Google for one of these post types – you can get free traffic day-after-day, week-after-week, and month-after-month – and that traffic will usually buy products from Amazon and you will earn affiliate commissions!
Product Roundup Posts
A typical product roundup post title will start with the word, "best," and then describe a type of product or a group of products. The post itself will include several specific products that fit the product description or fit into the group. Usually, this type of post will include mini-reviews for each product mentioned with links to purchase each product at an online retailer, like Amazon.
The reason the title usually starts with the word, "best," is because lots of people search Google for products using that word at the beginning of their search. People want to purchase the best products – so that is what they search for! If you can provide a guide to users that shows off the "best" products for whatever they are searching for – you will be likely to earn a commission when they click through to purchase after reading your content!
Mini-reviews in product roundup posts are typically short and to the point. They might include a brief description, maybe some pros and cons, along with images and 'buy' buttons. Many product roundup posts utilize product information boxes to display some of this information. A good product roundup post will also include a nice product comparison table, usually towards the top of the post.
Here is an example of a product roundup post – https://www.owntheyard.com/best-soccer-ball-for-the-money/
Product Review Posts
A typical product review post title will contain the exact name (and maybe brand) of the product and a lot of times will have the word, "review," at the end. This type of post usually focuses on just one product and does a deep-dive review of that product. A specific product review post will tell you everything that you could possibly want to know about a product before making a buying decision – and, of course, includes affiliate links to purchase the product at an online retailer, like Amazon.
The reason the title usually ends with the word, "review," is because lots of people search Google for specific products reviews by typing in the name of the product and then adding "review" to the end. They want to read product reviews to help them make their own buying decision. If you can provide one of the best reviews for a particular product and get it to rank highly in Google – you will get recurring search engine traffic to your review post and will be very likely to earn commissions when readers ultimately buy after clicking on one of your affiliate links!
A good product review post will have a detailed description of the product and what it is used for. It will have products specs, images, price, and more – then will also include several pros and cons. It might have a, 'features & benefits' section. A product review post should talk about the company or manufacturer of the product. It might also have a section for specific reviews. A good product review post will also include a video – and maybe a comparison table to compare that specific product to other similar products.
Here is an example of a great product review post – https://amalinkspro.com/coleman-classic-propane-stove-review/
The Level Up Series from AmaLinks Pro
Here at AmaLinks Pro – we actually offer a FREE email series where we discuss, in great detail, the typical buying process and how to take advantage of it as an affiliate marketer. I highly recommend that you sign up for this series if you really want to 'level up' your game as an affiliate marketer! Just click on the button below and enter your email address and we'll get you started right away!
How to Insert Amazon Affiliate Links in WordPress
As is usually the case in life, there is a hard way and an easy way to do things – like inserting Amazon affiliate links in WordPress. The hard way is free and the easy way costs a little bit of money. That's just the way it is…
The hard way – You see… Amazon provides free options for you to insert Amazon affiliate links. It involves copying HTML code and pasting it into your WordPress editor. You have to be careful though – as WordPress has 2 different versions of it's editor. One is Visual mode where you typically enter plain text. The other is Text mode (or Code editor) where you can insert HTML code. If you insert HTML code in the Visual editor, it won't work! So, if you are writing a post in the Visual editor (which most people do), you have to switch over to the Code editor to paste in your HTML Amazon affiliate links, then switch back to the Visual editor to continue writing.
Note: plain text links work just like any other hyperlink – you can easily insert those from the Visual editor – but the Image or Text+Image links use the HTML code as described above.
The easy way – WordPress allows users to add all kinds of functionality to their sites by utilizing plugins. There are many WordPress plugins available for Amazon Associates that make it easier to insert Amazon affiliate links. AmaLinks Pro is one of those plugins! Some plugins are free – and those usually aren't very good. And other plugins, like AmaLinks Pro, are paid plugins and are usually pretty good. Just remember… you get what you pay for! Some of the good plugins give you the ability to connect your site to the Amazon API so you can automatically pull in data for products listed on Amazon.
Using SiteStripe to insert Amazon affiliate links
Amazon's default 'system' for providing affiliate links is something called SiteStripe. Here is how Amazon SiteStripe works, step-by-step…
you must first login to your Amazon Associate account
next, open Amazon in a new window on the same browser (you should see the SiteStripe bar across the top of the page)
search/find the product you wish to promote
select which link type you want to create from the SiteStripe bar
copy the link or HTML code then paste into your WordPress editor appropriately
Here is a screenshot with an example showing exactly what this looks like for creating an Image link using SiteStripe…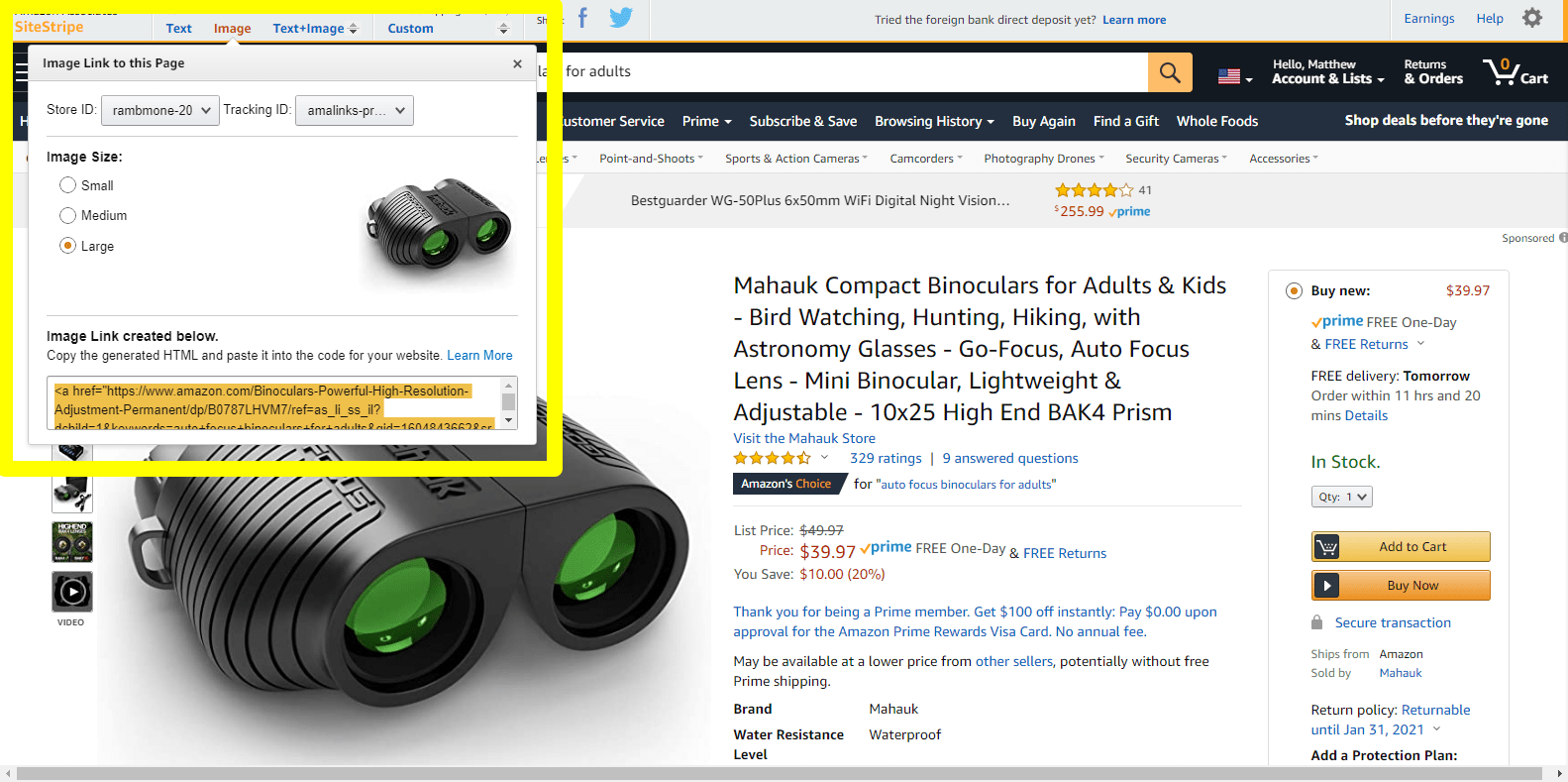 Using a WordPress plugin to insert Amazon affiliate links
A great WordPress plugin, like AmaLinks Pro, will actually walk you through the link building process for Amazon affiliate links from right within WordPress. That's right – you don't even have to leave WordPress to search Amazon for your products! As long as you have access to the Amazon API – you can connect your site to Amazon and do everything from right within WordPress, including…
select which Tracking ID you want to use
search Amazon for your product (within your WordPress editor)
select which type of link you want to build
preview your link
select or change various link settings
insert your Amazon affiliate link!
Easily Insert Amazon Affiliate Links with AmaLinks Pro
Here is WHY we believe that we have created THE very best WordPress plugin for Amazon affiliates. Simply put – AmaLinks Pro is the EASIEST to use and creates some of the best-looking link types available out there! To get a good overview of exactly HOW AmaLinks Pro works – I highly recommend that you take a look at our demo page. We have a demo video there and links to live pages on the site that show off some of our features and link types.
One of the MAJOR ADVANTAGES of using a WordPress plugin, like AmaLinks Pro, over using Amazon's SiteStripe is that you can create several WAY better-looking and higher-converting link types. Amazon SiteStripe gives you text links or image links. Here are the link types that AmaLinks Pro allows you to easily create…
Text Links (API driven links so you get credit for API links)
Image Links – select from ANY image available for products listed on Amazon and choose your image size

SiteStripe only gives you the option to use the one default image (you cannot choose other images from the listing)

CTA Buttons – choose Amazon Buy Now buttons or create your own high-converting call-to-action buttons

your styling options are unlimited with the AmaLinks Pro CTA Button builder

Showcase Boxes – choose from our many different layouts for 'product information' boxes

product data is automatically pulled in from the Amazon API
100% customizable – show or hide any of the elements – edit the text/image fields however you like

Comparison Tables – easily create responsive comparison tables that look great on ANY screen size
Note: All of our link types are API-driven so you get credit for API links which enables you to keep (or gain) access to the Amazon API – which now limits its access based on your API sales.
Is it worth it to pay for a premium plugin like AmaLinks Pro?
As I mentioned – there are always free ways to do things. Maybe you are boot-strapping your 'make money online' ventures. I get it! I did the exact same thing when I started out. I refused to pay for anything. But once I started paying for tools – I saw the light and I have never looked back. Paid tools make internet marketing life SO much easier!
Understandably – not everybody has room in their budget to pay for all of the tools that they wish they could have. Sometimes it's a matter of prioritizing which tools you are going to pay for. One simple questions to ask yourself before considering paying for a tool…
Is this tool going to help me increase my online income?
We actually cover this topic in detail in our blog post – They Say AmaLinks Pro is Too Expensive – and we help you change your perspective on this topic a little bit by laying out cold-hard facts and numbers. You might be surprised by what you read in that post! Check it out…
The bottom line is this… if you have traffic coming to your website – we absolutely believe that using AmaLinks Pro to create high-converting Amazon affiliate links will help you increase your online income. Since the tool essentially pays for itself – what have you got to lose?
Get Started – 30-Day Guarantee
Today is the day to get started with AmaLinks Pro. You seriously have nothing to lose. We have a 'No Questions Asked' 30-day refund policy. If you don't like AmaLinks Pro – simply request a refund within your first 30 days and get your money back!
You could watch our demo videos or search for reviews online for AmaLinks Pro. But, the best way to really get a feel is to just try it for yourself. You can start out with our least-costly plan, the Blogger plan, which is good to use on just one site. If you like it and want to use it on more sites – you can simply pay the difference for one of the higher plans and upgrade your license. It's really quite simple.
AmaLinks Pro pays for itself by turning your website traffic into affiliate income. What are you waiting for? Get started today…
Frequently Asked Questions About Making Money Blogging
Here are some questions and answers (from around the interwebs) that people typically ask regarding making money by blogging…
1. Is blogging profitable in 2020 or 2021?
From: Carly the Mommy at Mommy on Purpose
Blogging is a LEGIT way to make A LOT of money – (I am updating this as of January of 2020, and this is more true now than ever). I make good money doing this, I had no experience when I started, and in the grand scheme of life, I started making money very quickly.) So if your burning questions was "is blogging REALLY profitable?" the answer is a resounding YES – it sure can be!)
Read the full post here – https://mommyonpurpose.com/blogging-faqs/
2. How can I make $1,000 a month blogging?
From: Clean Eating with Kids
In July 2018, my Blog started making just over a $1000 a month ($1014.86 if we want to get those numbers right). I had been blogging full time for about 15 months at that point. And it wasn't until the last few months before that I actually figured out how to do it.
Read the full post here – https://www.cleaneatingwithkids.com/5-things-make-1000-month-blog/
3. How do bloggers get rich?
From: Sam at Financial Samurai
Blogging is the best business in the world. I truly believe this as someone who has run Financial Samurai, one of the premier personal finance blogs since 2009. I've watched blogging become an extremely lucrative space over the years, so much so that I left my investment banking job in 2009 in order to focus full-time on blogging.

Today, I fortunately make more blogging than I made during my highest earning years in finance, while working 1/4th the hours and having 3X more fun.
Read the full post here – https://www.financialsamurai.com/how-much-do-bloggers-make-a-lot-more-than-you-think/
4. Is blogging a profitable business?
From: Jon Morrow at The Smart Blogger
The fact is, most bloggers make as much money as any other type of entrepreneur:

Nothing.

And it's not because there's no money in it. This blog makes more than $1 million per year, for God sakes, and it's nowhere close to the most profitable blog out there. Blogs like The Penny Hoarder, Moz, and Lifehacker power businesses worth hundreds of millions of dollars.
Read the full post here – https://smartblogger.com/make-money-blogging/
5. How do beginner blogs make money?
From: Alison Wright at Simply Hatch
When you're reading about "How to make money blogging for beginners", $100 dollars doesn't sound like very much. I agree it isn't very much. You've probably splashed out most of that already on your first year hosting costs.

But before you click away, just accept that everyone has to start somewhere. If you can make your first $100, you can make $1000. If you can make $1000 you can make $10,000.

Is it a lot harder to make $10,000 than your first $100? No way! Making your first $100 a month from blogging is the hardest part of your money making journey. You're learning to crack the code…
Read the full post here – https://simplyhatch.com/how-to-make-money-blogging-for-beginners/
6. What type of blogs make the most money?
From: Elna at Twins Mommy
You probably read popular blogs and wondering how they make money eh?

And even better – there are even mom bloggers making money blogging! Yes, if you're a stay-at-home mom, you can start a mom blog!

So, I thought I'd share some of the most popular blogs for you. You may have been learning that the ONLY way blogs make money is if you….blog about blogging.

That's not the case.

I know so many other bloggers that don't blog about blogging that are making a full-time income doing this. Let's look at eight blog niches that you can start today and make money doing it!

These types of blogs are killing it!
Read the full post here – https://twinsmommy.com/blog-niches-traffic-money/
7. How do I start a blog with no money?
From: Mike Brown at The Blogging Buddha
One of the best things about blogging is that it's totally free to start, and while you can spend a ton of money on everything from a custom domain name to a special website theme, you certainly don't have to (In this article I'll also show you how to get both for under $5 a month so keep reading).

But for now here's what you need to know to start a blog with no money down.
Read the full post here – https://thebloggingbuddha.com/no-time-no-money-no-problem/
Start Monetizing Your Blog with AmaLinks Pro Today!
With so many ways to monetize a blog – promoting products for sale on Amazon should absolutely be part of your mix! You might or might not get rich solely by promoting Amazon affiliate products – but it can be a crucial piece in your internet income diversification plan.
AmaLinks Pro makes it extremely EASY to monetize your blog posts by promoting products for sale on Amazon. I mean… people are buying stuff from Amazon anyway. Why not direct them to Amazon from your site so you can earn some affiliate commissions?!?
Get started today!