Make money blogging with Amazon & AmaLinks Pro!
Quickly and easily add beautiful product displays and Amazon affiliate links to any page
Watch this short video to see how:
Monetize your WordPress content with the best Amazon Affiliate WordPress Plugin, AmaLinks Pro.
Because WordPress publishers deserve a simpler and more efficient way to connect to the world's most powerful affiliate program – Amazon Associates.
An Amazon Affiliate WordPress Plugin for 
Bloggers and Pro Marketers
If you're an Amazon associate, you NEED this plugin! As a mom of 5, I have limited time to spend blogging and need to use it wisely. Before Amalinks Pro, I often didn't add affiliate links to posts just because it took so much extra time to login to my Amazon account, find the links, and insert them into my post. Now, I'm monetizing way more of my posts because it only takes a couple clicks of my mouse to insert an Amazon affiliate link! This is one of the THE best, most useful plugins I've found!
I've been pleasantly surprised with how easy and versatile AmaLinks Pro has been in helping me manage my Amazon affiliate links. In particular, I love the fact that I can custom create great looking "buy" buttons that match my theme and are easy enough that my authors can insert my affiliate buttons in my articles.
I like what AmaLinks Pro has to offer. Documentation is very good, which is something I can't often say for the competition. It's especially great for those of you starting your first affiliate site. There's a lot to offer, it's user-friendly, and it's easy to get moving quickly. Give it a try!
My team and I love AmaLinks Pro! This plugin saved us countless hours of work! Before, I would cringe at the thought of creating new Amazon review articles. Now, we click on the AmaLinks Pro icon, search for the product name & insert links and images easily. I am so happy that we purchased AmaLinks Pro and would highly recommend this to anyone.
My take: AAWP sucks... AmaLinks Pro is by far the best option for Amazon links. I started using Amalinks pretty early on. (Over a year ago) and find that it is far superior to AAWP. So much better that I converted every link from AAWP to AmaLinks Pro on two sites I bought (pain in the a$$).
I have tried other plugins but this is the easiest and most powerful plugin EVER. You can easily insert affiliate links, images (via API) and of course the beautiful tables! (ALL IN ONE) The best parts? It follows Amazons Policies, support is really awesome and Matt (the owner) is ready to hear your suggestions and implement so that WE can benefit from this plugin AS MUCH AS WE CAN, without paying any extra $. I highly recommend this plugin!!
I purchased AmaLinks Pro based based on a recommendation, and I have to say... am I glad I did! Not only does it save me time by making adding products super fast, but they look great, and are very customizable too. Within days I noticed my Click Through Rates double and even triple in some cases! My only regret is not finding this sooner 🙂
For many years - I used, loved and promoted EasyAzon as my plugin of choice for inserting Amazon affiliate links. When it became apparent that EasyAzon had no intentions of updating their plugin - I searched for other solutions. I couldn't find what I wanted and all other plugins were lackluster at best. So... I set out to create AmaLinks Pro - the best damn Amazon affiliate WordPress plugin that ever existed!
Actual email we received from one of our customers:I just wanted to let you all know you are providing some of the best after-sales customer service I have ever received. If not for you I would not have been aware of this Amazon API issue so quickly and your detailed instructions helped me get ahead of it. I also appreciate your emails to let me know when you have updates. Very helpful. Keep up the good work.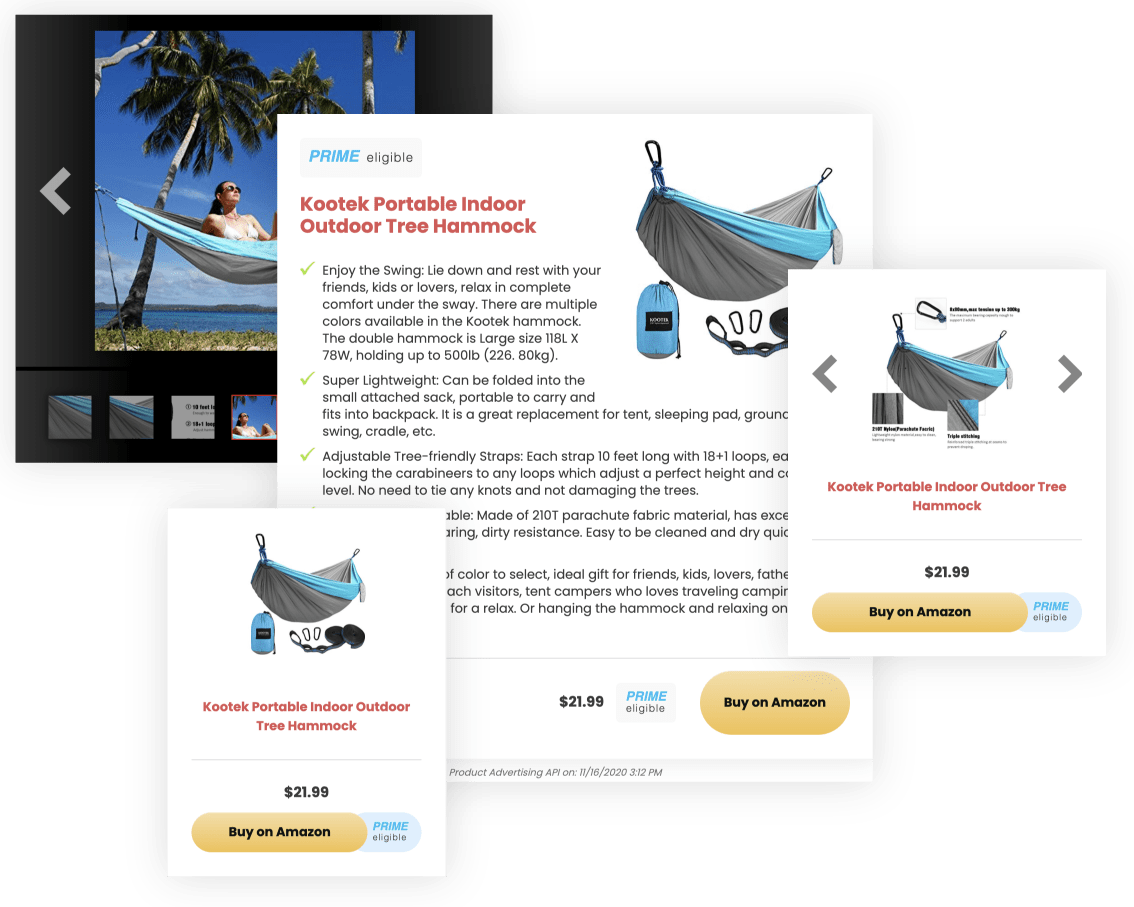 Maximize Your Affiliate Link Clicks
See how you can improve your posts instantly.
AmaLinks Pro Customer Case Studies
Check out these customer case studies. All three customers were able to increase the number of people clicking their Amazon affiliate links INSTANTLY by using the AmaLinks Pro Product Showcase Boxes and Product Comparison Tables.
Easy Product Comparison Tables
Watch me build an Amazon product comparison table in
less than 3 minutes...
Need Help? We've Got You Covered
We provide a large library of video tutorials and trouleshooting guides! Learn about our features in detail and see how to fix common problems or issues.
We offer email support to all AmaLinks Pro users. Browse our documentation or contact our friendly support team.
We're dedicated to constantly improving AmaLinks Pro. Expect new features and updates to help you earn more.